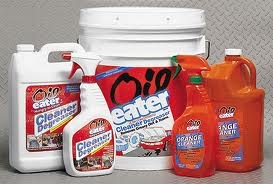 The Waste Minimization forum (wastemin.com) recently published its "2013 Industrial Degreaser Ratings" report. They tested the top 15 general purpose degreasers/cleaners, then ranked their performance, reported their pricing, and any hazard warnings relevant to the products. You can read their entire infographic on the study here: http://www.wastemin.com/discuss/index.php?threads/industrial-degreaser-performance-ratings-how-the-top-15-degreasers-stack-up.6/#.UzsDeKhdVRY - they had some interesting results that challenge some conventional wisdom on what makes a good cleaner/degreaser - definitely worth the read.
The number two finisher in their study was Oil Eater Cleaner and Degreaser (which we're proud to be a distributor of). Even better, they came in at half the cost of the first place finisher. Oil Eater is water based, non hazardous cleaner that can be used on anything from gettin grease stains out of laundry to truck washing, to brake parts cleaning. In the Waste Min study, Oil Eater also produced less rust than a traditional solvent based degreaser.
If you want to learn more about Oil Eater you can visit their website at www.oileater.com or if you'd like try it out, we do have limited free samples available. Give us a call or fill out the contact form to the right for more info or to get a free sample while supplies last.
Read More