The next generation of passenger car motor oil (PCMO) is on the horizon. The new ILSAC (International Lubricant Specification Advisory Committee) is GF-6A and will be backwards compatible with ILSAC GF-5 and prior. The new spec will begin licensing as of May 1,2020.
EPA regulations that mandate enhanced efficiency and lower emissions have resulted in OEMs making changes to engine designs and that means the oil keeping that engine going smoothly needs to be adjusted as well. This new spec will offer better protection for new engine designs that have come online (or will soon).
The API spec that correlates with the new ILSAC standard will be SP and API certified products will still display the "donut" logo. There is also a GF-6B portion of the new spec and that introduces a new viscosity - 0w16 that will also have API certification. The API certification seals you'll see on the new spec look like this: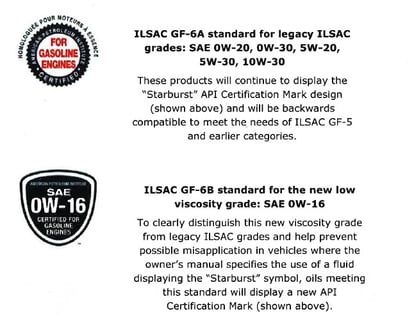 From now through the spec hitting market, suppliers will be going through licensing processes for their products to be tested & re-certified. As always, remember to check for API certification on the items your fleet or shop runs on - it really is the simplest way you can ensure the highest product integrity, no matter what the change in spec.
Read More