Volatility Continues with Economic Concerns, Export Increases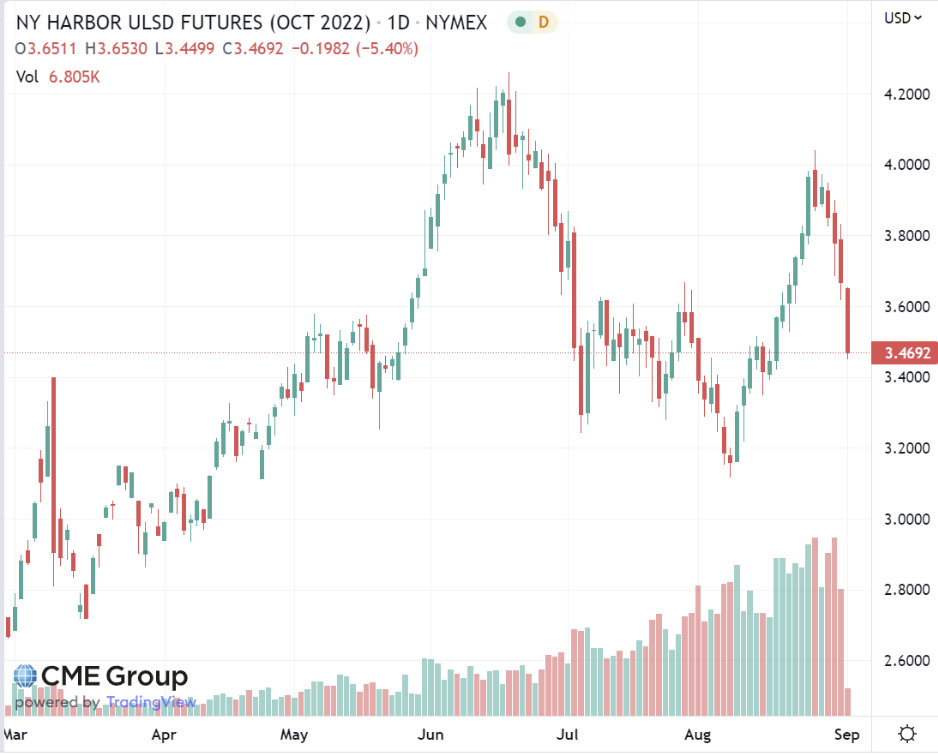 In the last 6 sessions we have seen ULSD futures slide just over $.50 in value. While this is good news, the previous 6 sessions added just about the same amount. So basically we are back to the same levels we were mid-August where we all felt pretty positive pricing was moving in the right direction. Much of the rise can be attributed to money being put into the market as an inflation hedge as rates continue to rise, though it is tough to keep that money in long term with the ever present backwardation.
The slide the last week has come as demand concerns continue to make headlines and more currently China is again locking down several major cities with COVID concerns. Yesterdays inventory report seemed Bullish on the surface with draws on all products but like anything, the devil is in the details. Many saw the latest news cycle highlighting the possibility of fuel shortages coming this winter. A good explanation shows in this weeks report. Refiners are operating at pre-Pandemic levels, yet domestic inventories of finished products are still down- the key factor is that our exports of gas and distillates are up over 500m b/d over last year.
Again, it is still better for companies to ship products overseas to get 5x the value than if it were to sell into the US markets. Forcing US producers to sell into US markets versus formerly heavily Russian supplied countries may appear as abandonment in their time of need politically speaking, and moreover, will that force those countries to "amend" Russian import sanctions……thus it's a delicate balance.
The field seems to be mixed on the last few months of the year in where pricing will be headed although the common theme is that the volatility, up or down, is here for a while.