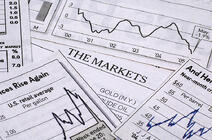 Futures are crashing on the NYMEX today, with WTI down around 5% thus far on the day, around the $48/bbl mark, on track to potentially close out at a 15 month low. Refined products are tanking as well, at time of writing, ULSD is off .0472 & RBOB is down .0341
So what's going on?
Once again, it appears the sell off is based on concerns of global oversupply, with the headline being that Russia is reportedly increasing output. The hike could put them at close to 11.5 million barrels per day, according to MarketWatch.
You may recall that earlier this month prices spiked on the announcement that Russia & OPEC nations were agreeing to cut production by a combined 1.2 million barrels (here's a refresher: OPEC+ Agreement Spikes NYMEX)
Apparently, Russia has changed its mind.
Along with the news about Russian production (unconfirmed news, for the record) the US has reportedly been upping shale production by more than what analysts had predicted, and globally, it looks like China is potentially poised for a slow down in demand growth, which is also weighing on prices.
The EIA inventory reports due out later this week may impact whether the decline backs off or continues. Platts is predicting inventory draws on Crude & Distillates, so if they are wrong, we can expect some more downward movement on the EIA release.... theoretically anyways.
Stay tuned!
Read More