Even though Diesel futures have fallen roughly $.20 in the last two days, we are still almost $.40 higher than the beginning of the month. Still optimistic that we will considerably lower in the coming weeks, however.
Demand appears to be the underlying factor that is keeping prices from continuing higher. Yesterdays Inventory report showed that distillate demand was down 3% over last week and down a whopping 18% over last year. We have mentioned many times that distillates demand, more precisely diesel demand, is often viewed as the pulse of the US economy. An 18% drop in anything is a lot….
The question remains as to why are we still at such high price levels, relatively speaking. I would like to say it is simply fear of the unknown, but that should only last so long. The world seems to be adjusting to curtailed Russian product, and Russia appears to have found other markets just fine. Granted, we have not seen extremely cold temperatures here or abroad. However, Kerosene pricing has skyrocketed in the last few days pushing winterized diesel in some areas up almost $2.00 in a week. Inventories remain low, but again, so is demand and the market backwardation persists. Costs of all other goods appear to be falling, or as some say "just not rising as fast" and unfortunately, it points to the oil markets still having inflation hedge premiums built in to the price. That will take time to remove and still hope to see futures less than $3 soon.
The ability to capitalize on the dips for the short term appears to be the prudent approach. Talk with your Rep about seeing if this makes sense for your business.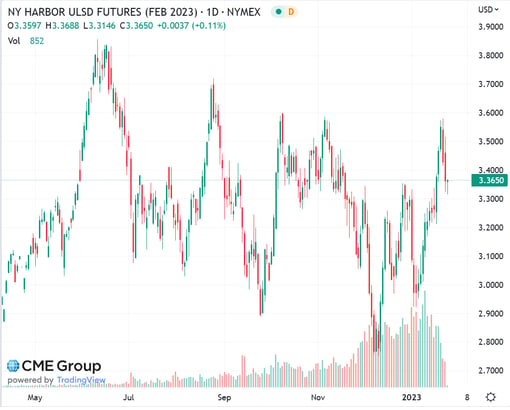 Read More