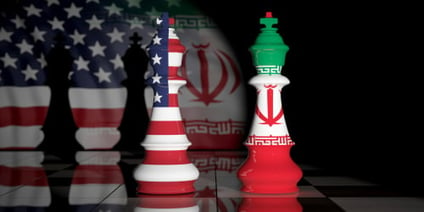 Gasoline spiked this morning, after a refinery explosion shook Southern Philadelphia. At around 4am, a butane vat exploded at the East Coast's largest refinery, causing large fires and prompting an shelter in place order for the surrounding areas. There are no injuries reported, and CNBC is reporting the flames were relatively controlled with the SIP order lifted around 7am. You can follow this story here: Massive explosion at biggest gas refinery in East Coast

We won't know how long term an impact refinery issues will cause, but looming larger on the horizon is the US/Iran tensions hitting crisis point. The market has jumped substantially this week in response to the escalations.

In lieu of the deep dive really looking into the Iran/US issues would require, the following is a quick synopsis of what's been happening in the past weeks' escalations:

Tensions have been simmering since last May, when Trump withdrew the United States from the so-called "Iran Nuclear Deal" reached with that country & President Obama that would have capped uranium enrichment for Iran at 3.67%.

Last week, as discussed, oil vessels were attacked in the Gulf of Oman. The Trump Administration has placed the blame on Iran for the vessel attacks, although it is unconfirmed still at this moment in time.
Monday, Iran announced that by the 27th, they would officially breach the caps on uranium enrichment set by the "Iran Nuclear Deal" As mentioned, the Trump Admin withdrew from that deal in 2018, but it is important to remember that the other countries involved did not withdraw, the deal was supposedly still in effect between Iran & several other European nations.
In response to the announcement about uranium, President Trump announced he would be redirecting 1,000 troops to the Middle East.
Thursday, Iran shot down an unmanned US drone. Iran claimed the drone was within Iranian airspace, while the US argues their coordinates show the drone within International airspace near the Strait of Hormuz (there is about a 9 mile variance between the coordinates cited by Iran and those cited by the US)
Thursday night, President Trump ordered retaliatory strikes on Iran, but held off at the last minute. According to him, he called off the strike because the expected casualty rate would be higher than what he considered proportional to the attack by Tehran, so it is unclear whether a different type of retaliatory strikes will commence in the next several days. (This is still developing, follow live updates here: "Trump confirms he called off retaliatory strike against Iran in last minutes"
We will continue to keep an eye on developing news and how it impacts the market.
If you have questions regarding current pricing, or want to learn about the options for fixed prices or prompts available in the face of volatility in the market, please don't hesitate to reach out.
Stay tuned!