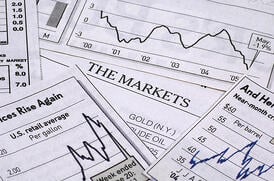 Oil continued downward today on the back of the EIA inventory report for last week that indicated Crude stockpiles were up 9mmbl to a record high of about 407mmbbls. At the close, Crude dropped below $45/bbl, -1.78 to 44.45. ULSD and RBOB closed lower as well, ULSD settling down .0310 to 1.6318, and RBOB settled down .0051 to 1.345.
In addition to the inventory report, as we mentioned, the new Saudi leader has indicated the largest OPEC producer will continue on its track to hit production goals set. Both of these factors mean traders are still concerned with longterm over supply, which is continuing to drive down prices.
The Saudi stock market shot up today as well on rumors of relaxing restrictions on foreigners trading that market. This ties back to the oil oversupply, in that most are crediting the Saudi's potential move of opening the market up as a way to raise revenue and stimulate the economy in the non-energy sectors, which indicates further that the current oversupply will be a long term situation.
In other news, the House today passed a bill to expedite the process for permitting LNG exports. With the increase in US Nat Gas production (the US is currently the worlds top producer), the thought is exporting would not only be economically beneficial for the US but exporting to Europe could reduce the essential monopoly Russia has on natural gas supply in those nations.
At the same time that passed the House, a Keystone bill continued to languish in the Senate when the attempt to pass a procedural motion to push the vote failed Monday. One of the ammendments to the current bill is a proposal to eliminate the ethanol mandate portion of the RFS - this will be an important one to watch, certainly.
Stay tuned!