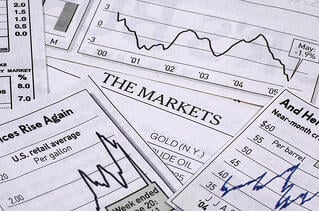 Oil prices continued to tumble early this week - that is until the Wednesday EIA report came out and spiked prices on Crude up 6%. The report showed that Crude stockpiles fell by 2.1mmbbls for the week ending September 11. Additionally, Distillate stocks dropped by 3mmbbl, and gasoline dropped 2.84mmb. That explains Wednesday, when we saw Crude jump up to settle at $47.15 (Tuesday's close was $44), ULSD jumped .0414 to $1.5414, and RBOB jumped .0492 to $1.3821 (it could have been worse - intraday highs were over 5 up on diesel and 6 up on gas!).
Today is trending down like yesterday, with ULSD down .0390 to $1.4907, and gas down .0198 to $1.3562. WTI closed out at $44.68.
The Federal Reserve announced late Thursday that it will not be increasing interest rates at this time, based on concern about global economic growth. This has pushed oil prices down, because global concern means we're unlikely to see a spike in demand that would ease concerns about the oil glut we've been dealing with. As you'd expect, there's been some demand/use increase because of the lower prices we've been seeing, however its simply not robust enough to really make a sizeable dent in the oversupply.
The issue with the Fed's statement outside of the grim outlook is they are still suggesting a rate hike this year, probably December. That means we will probably see the same up and down volatility with stocks and oil prices as we have seen over the past few months while waiting for this now-passed deadline.
Rig counts are down in the US again, according to Baker Hughes' report, which may stem some production, but again, not likely to be a huge mover one way or the other. Refineries will be going on scheduled maintainence soon which may lower Crude stockpiles for a while, we'll have to wait and see on what impact that has. Across the globe, OPEC is still maintaining they will not be stemming production, and Iran has stated they intend to come fully back online as soon as sanctions no longer suppress their output.
On the political side - the House Committee on Energy voted this week to move a bill proposing the repeal of the Crude Export Ban to the floor for a vote. Obama is likely to threaten veto, and its unclear if it will even get through the Senate to force said veto, but it is a potential bright spot for US producers and refiners that the bipartisan bill is moving to the floor.
(If you want to brush up on some of the issues regarding the Crude Oil Export Ban, you can do so in these articles: "Is it Time to Overturn the Crude Export Ban?" and "Energy Security, Not Independence, Should be the Goal" )
Stay tuned!
Read More