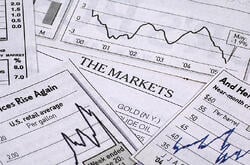 Everything is dropping across the board today - WTI is maintaining itself under the $80 benchmark (currently -1.76 at 78.78/bbl), Gas and ULSD are both down over 5 this morning on the NYMEX and the Dow and Nasdaq are both following suit into the red.
So whats going on?
The reason the dropoff has escalated today in particular is likely due to the Saudi announcement that they will discount Crude imported to the US, which has really ramped up the economic pressure on fracking companies.
It appears the Saudi price pressures are starting to take effect on American production, with Chevron and Shell both announcing scale backs in popular shale plays and exploration proposals.
The estimated cost per barrel extraction in the US is around $60, which is about double the production cost for the Saudis. So when WTI is getting toward the mid 70's/bbl the profitability starts to drop off, and quickly.
Additionally, the trade deficit is at a 4 year high, as global growth remains at a crawl, further dropping demand and therefore prices in the face of ever increasing supply. Slow global growth demand plus a strong dollar put a damper on exports. Additionally, construction spending fell in September, so the economic outlook for Q4 aint looking so good, and seems to be bringing the bears out across the board.
Stay tuned!