Uber's Otto Delivers on Driverless Big Rig Technology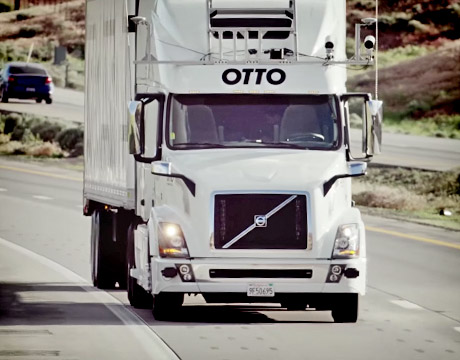 This past October, a Volvo 18 wheeler delivered 2,000 cases of Budweiser in Colorado - with no driver at the wheel!
Say hello to Otto, Uber's self-driving big rig.
Before you panic - It's hailed as a solution for the trucking industry's driver supply problem, versus being a replacement for drivers in general. The company is quick to point out that the application is only really able to be used on the highway i.e. long haul routes. The technology is nowhere near where it would need to be to even consider reacting to real world tough urban obstacles like bike riders, pedestrians, and things like tourists trying drive through the Back Bay in Boston.
As of now, the pilot programs appear to be going well when it comes to these self driving big rigs. Arguably, long haul truck routes should be the initial phase in of AV technology, because of the lack of aforementioned city obstacles.
The how safe equation is an ongoing issue when it comes to autonomous cars as well (you can read about that here: "The Struggle is Real when it comes to Autonomous Vehicle Safety" But it appears that the big rigs are passing thus far with flying colors, and multiple manufacturers are looking to get similar options onboarded. It's big news potentially for the trucking industry as well, as drivers retire and move on, there has been a real struggle to find qualified applicants to fill the spots. (They just don't make 'em like they used to, as they say... We're looking at you Kevin!)
I wrote an article for this month's edition of Oil & Energy Magazine detailing Otto's debut, and what it means going forward for the trucking industry as well as the technology itself. You can read that article here: "Otto: Uber's Self Driving Big Rig Delivers"