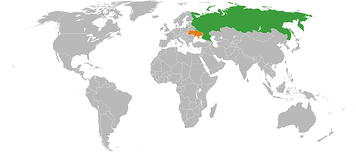 (Image Credit - Russavia [CC-BY-SA-2.5 (http://creativecommons.org/licenses/by-sa/2.5)], via Wikimedia Commons)
Deja Vu - global oil prices are again creeping higher on increasing friction on the Ukraine-Russia standoff, projected inventory numbers, and Chinese economic numbers suggesting slower growth than anticipated. Didn't we just go through this two weeks ago??
Brent CRUDE hit over $110 Tuesday for the first time since March 4th on increasing concern over long term energy supply impacts of the mounting Ukrainian situation, and concerns of potential Western (US) interventions. Tuesday saw Ukranian troops clash with Russians at an occupied airport in Kramatorsk, about 100 miles from the Russian border - the first armed clash thus far in the ongoing power struggle. Tuesday also saw Ukranian troops headed toward the Russian border, counter to the tens of thousands of Russian troops reportedly stationed there. Concerns over potential Western response pushed stock markets lower, including the German DAX and Russian MICEX and pushed Brent and WTI prices up, with Brent hitting $110 as we mentioned, and WTI gaining to as much as 104.99 ahead of Inventory numbers due out later today.
The primary cited reason for the jumps is the escalations in the Ukraine, but Chinese Economic data is also looking weaker than projected, with economic expansion numbers clocking in at the lowest we've seen in 6 quarters and falling short of the governments stated target of 7.5% growth. On the bright side, the Hariga port in Libya loaded for the first time in July when it was seized and shut down by rebels.
Domestically, US inventories on gas are projected to show draws of up to 1.75 mb in Bloomberg estimates, while CRUDE is expected to show builds, and distillates are projected to be largely stable. It will be interesting to see how pricing plays out if the EIA report pulls the rug out from under the analysts like it did the last week of March.