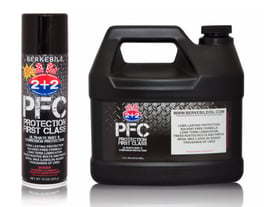 We're excited to officially announce that we are a distributor for Berkebile's 2+2 product line, which includes Protection First Class products. We have brake parts cleaner, white grease, aerosol grease, and PFC - Protection First Class Undercoating.
The PFC Undercoating protects against corrosion and rust and it stays translucent so it does not impede diagnosing any vehicle issues, unlike some other products. Application is so straightforward that its DIY with compressed air.
We have had a lot of positive feedback on the product so far, and anticipate that the customers testing out the PFC undercoating are going to have a much better experience this winter in terms of undercarriage protection than those who don't get their fleet covered before the salt and sand starts covering the New England roads.
This stuff is fantastic for a diverse group of customers - auto repair shops have added it to their service menus, bus and transport companies are using it to protect their fleets on the road, and landscape contractors have had a lot of success protecting plows and equipment from corrosion.
This fall we were able to have meetings with customers where a vendor rep demonstrated the product application process and answered any questions that came up. If that sounds like something that would help with your decision making process on these products, let us know and we can coordinate a demo & meeting at your facility.
For more info on PFC Undercoating, this page has a ton of information on both the undercoating, and other PFC products for your vehicles & equipment - PFC Product Info - or you can watch the video below for more specific info on undercoating:
Read More