On February 24, 2022 Russia invaded Ukraine thrusting oil markets into one of the most volatile periods in decades, reaching prices never seen before. At just over a year later, the APR contract is just $.01 off of where we were when this all started. (see close on 2.24.23 below and chart) . The circumstances around the recent drop are obviously derived from the recent banking meltdown.
While it may take a Phd from Harvard to understand the details of what happened to the collapse of two major US banks, the underlying notion remains true no matter what decade we are in. Fear tends to push markets much more than any fundamental or technical mechanism.
A year ago, most were fearing that Russian oil flows would cease and cause a worldwide disruption and price spike. While in some instances it affected physical markets, the fear of it is what drove futures higher. With large banks dancing on the Moral Hazard line (taking on excess risk with idea of being bailed out if it sours) and paying higher interest rates, it put fear into depositors and prompted massive amounts of withdrawals, a classic bank run. This is prompting a much larger fear, the fear of Contagion, a Financial Covid, to put it into modern day terms.
The good news is that the recent collapse presents some buying opportunities! We stated prior that should we dip below the $2.65 on the front month, Q2 & Q3pricing may look appetizing for a portion of your needs. All eyes will be on the FED and what they announce in the next meeting, more rate hikes or not? Also look to see if OPEC+ decides to cut production to bolster prices in the coming weeks. Don't fear, DKB will be here.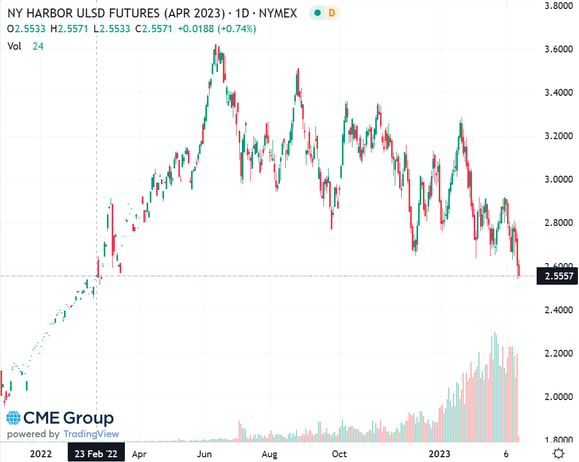 Read More