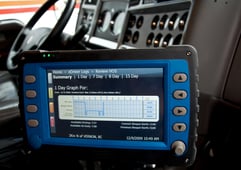 The FMCSA has just closed the commenting for changes they are considering in Hours of Service rules, particularly concerning breaks. The commentary period was meant to solicit opinions from drivers and transportation industry folks to see what those that the rules would affect in real life thought about the proposed changes.
Below is a quick breakdown of some current HOS rules and how they could change under this proposal:
Currently drivers are limited to 11 hours of driving within a 14 hour on-duty window, and then are required to take 10 consecutive hours off-duty before driving again. Additionally, they cannot drive after working more than 8 hours without an off-duty rest break of at least 30-minutes.
Proposed changes would count 30 minutes of "non driving" time as a break, so for instance, if there was an accident, or roadwork, or traffic was horrendous and you pulled off the road, you could be on duty but not actively driving and have that be a break, versus having to go completely off duty. Another example would be 30 minutes spent loading or delivering product being counted as on-duty break time, so taking an additional 30 minute break would no longer be required.
An additional off-duty break of at least 30 minutes (but less than 3 hours) would pause the 14 hour window (so say you stopped an hour, you would essentially "gain" an hour on the other side because of the pause, so instead of having to clock out at 3pm it would bump to 4pm, etc) but this would only be in effect if you had a 10 hour reset (consecutive) following.
Short-haul truckers would also be allowed up to 14 hours on duty (from the current 12) and the mileage radius would expand to 150 miles (from 100).
All of the above are meant to address some rigidity in the HOS rules as they are currently, where often road conditions, accidents, construction, or simply the timing of traffic adds up to essentially non-productive time for drivers and potentially causes people to push through versus taking breaks as needed.
Having some flexibility in taking the 30 minute break, for example, could mean that instead of sitting in gridlock at 7am behind a major accident, you could pause 60 minutes then jump back on the road at 8am, when it cleared, without losing the hour on the other end - and without sitting at a standstill in traffic. (The fuel savings, and decreased aggravation of that option alone makes it seem appealing).
The idea with flexibility is to improve the efficiency and the experience for drivers, and allow them to make safety conscious decisions about when and how long they need to be taking breaks, without being too boxed in by HOS hard lines to get their work done. The goal being balance, where there is still rest and ample breaks, but the on-hours remain flexible enough to allow people to actually TAKE the breaks without worrying about scrambling to catch the time or distance up to hit deadlines.
Read More