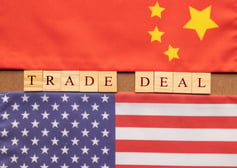 Prices have been somewhat up and down, but largely range bound over the past several days of trading.
It's not because there's nothing going on but because there is a lot happening but it's sort of up in the air which way everything will go.
The ongoing US/China trade tension situation is both the major factor and a good example - "Phase One" of a trade agreement is in the books as of Wednesday, including a pledge by China to buy "at least 52.4 billion of US Energy products over the next two years" (although what that entails specifically was not clarified)... That sounds like news that should be pushing oil up substantially - but we don't actually know if any trade deal will change demand forecasts, so it may be that pricing is largely unaffected.
Some of the confusion is that this is "just phase 1" and the US has announced that they are not removing tariffs on billions of dollars of Chinese goods until phase 2 (whatever that is) is agreed to, but we have revised tariffs down substantially on 120 billion OTHER Chinese goods previously at a higher rate.
Essentially, no one is really sure what we can expect to see in terms of real impacts from Phase 1 -or how long Phase 2 will take.
(You can read the details of Phase 1 in this article on MarketWatch: "Trump signs landmark China deal and says removal of tariffs would come in next phase").
Yesterday (Wednesday) The EIA inventory report for the week ending January 10 showed surprisingly huge builds on distillates and gasoline, 6.7mmb and 8.2mmb, respectively. (Analysts had predicted 3.3 on gas and 1.3 on distillates). Crude also surprised traders with a 2.5mmb decline (against a 1.1mmb speculated build). Wednesday's close reflected the report with a drop of .0324 ($1.8779) on ULSD, a drop of .0176 on gas ($1.6368) and a final number of $57.81/bbl on WTI Crude.
Today we have been mixed most of the day as the trade deal news gets analyzed and digested, primarily. At the close, ULSD was down .0179 to $1.8600, RBOB gained .0180 to $1.6548 and Crude settled at $58.52, from $57.81 Wednesday.
This week the EIA also revised its expectation for WTI & Brent crude for 2020, putting WTI at an average of $59.25, pretty close to where we have been trending the past week or so (1/8-1/16: 58.08-59.61/bbl)
Stay tuned!
Read More