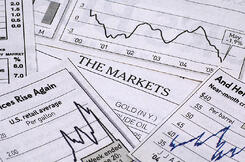 The EIA Inventory data out today showed that US Crude stocks unexpectedly fell 2.38 million barrels last week - if you remember, earlier this week, analysts were expecting roughly that amount of BUILD to be reported. Gulf Coast inventories had been expected to show a huge build but instead dropped by over a million barrels. On the other side, gasoline inventories dropped essentially in line with expectations, falling by a little over 1.5 million barrels.
So what happened on Crude?
Consensus seems to be the main factor was the Houston shipping lane closure we discussed last week - the interruption likely caused higher draws than anticipated, primarily because it impacted imports to the Gulf during the shutdown, forcing refineries to pull off existing stock. This makes sense, as we saw a much larger reversal in inventory actuals versus expectations in the Gulf Coast region than generally.
Despite the surprise inventory numbers, NYMEX futures are still trending down today.
Interestingly, RBOB prices continue to trend downwards (although it pulled in mostly by the close) despite sustained and growing issues with ethanol supply, and a dramatic increase in its cost. Bloomberg reports that ethanol climbed 81% over the quarter, so even though RBOB is dropping on the screen, it's very unlikely consumers will see any real relief at the pump any time soon - at least until the supply and logistics issues spiking the price of ethanol subside.
At the Close - ULSD settled -0.0212 to 2.8666, RBOB settled -0.0029 to 2.8668, and CRUDE settled out -0.12 to 99.62
Read More