The other day I mentioned how the futures markets rose, yet the cash markets fell. Yesterday was the reverse for some. While ULSD futures closed down $.1557 to $4.0413, ARGUS cash trading edged up .0193. We are obviously in the most volatile period I have seen in all my years.
Of note in the last day we have heard that OPEC+ nations will stick to their planned production increases that were set in place back in July 2021 rather than opening the spigots to temper prices. Additionally, it appears as though most European nations will move forward with a stepped embargo plan of Russian fuels.
The backwardation in the diesel pit over the last two weeks put crimp on in tank inventories especially here in the Northeast. That situation appears to be getting better as the JUNE to JULY backward spread is roughly $.20 and word is that the supply picture is getting better. But again, when prices shoot up like a rocket, they fall like a feather. It will take some time for these prices to get back to a "normal" level as it noted that most refiners have moved to what is called Max Distillate Production, meaning they are trying to produce the most Diesel, Jet Fuel, Heating oil, etc. possible, so that they can capitalize on the high crack spread.
We have said many times before, high prices are the cure for high prices.
As you have all now seen street diesel prices over $6 per gallon, this has to be a hit on demand in the short term and those extra distillate barrels should hit the market at the same time. I would like to see us retrace a $1.00 from here, but my guess is that it might take the summer to do so. Then again, as shown below on March 9th we did drop almost .50 in a day. I would think we would need a cease fire in Ukraine for that to occur.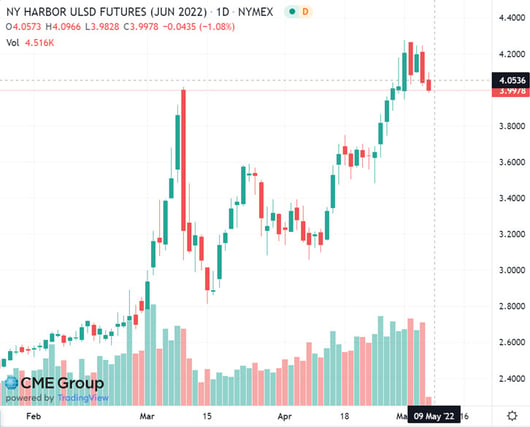 Read More