Diesel Cash Spreads Normalizing, but Kero Concerns Lurk Ahead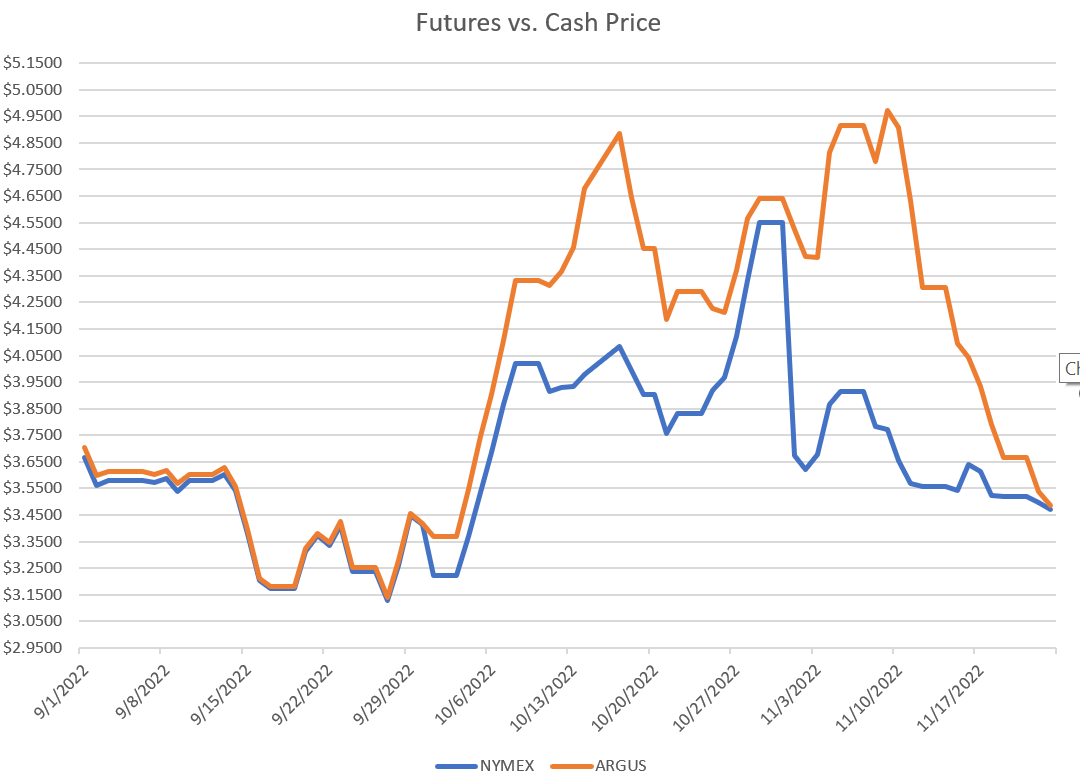 Hope's not a four letter word, although, probably not the best strategy in the fuel business.
Two weeks ago we had said that hopefully we see pricing top out as supply appeared to be moving into the Northeast. That looks to be occurring, as cash values have dropped at twice the speed of futures and almost catching up to normal spreads. (see below).
On 11.9.22, cash prices were $1.20 higher than futures, as of today they are $.0150 higher. This means that diesel product is being shipped, getting purchased, and somewhat loosening the supply constraints for some. Thus the reason you have seen your prices fall so dramatically the last few weeks. However, supplies do remain tight as the backwardation persists, limiting some Suppliers from taking product in tank along with an uneasy feeling on demand over the next few weeks.
The other elephant in the room is Kerosene, which is in extremely tight supply throughout the region. A niche product used primarily in the Northeast and Central US for outdoor heating and road fuel winterization is still seeing record high prices as many try to source gallons.
As I have discussed with many of you in the last few months, diesel-kero blends for winter operability purposes will be high relative to years past.
With Crude pricing falling to 10 month lows this week capturing much of the headlines and rumors of an OPEC+ production increase (albeit quickly dismissed) swaying markets somewhat, the real focus should remain on Distillate pricing. Again, the volatility looks to stay in place until the forward months level out and we see how the Russian price cap plays out that is due to take effect on 12.5.22. It was just in late September that ULSD traded roughly $.50 lower than present. Still hope.
As always, the Team at Dennis K. Burke is here to assist and answer any questions you have. Have a safe and Happy Thanksgiving.