Day to day, we get quite a few calls about Diesel Exhaust Fluid (DEF). Expanding fleets are increasing demand, and customer focus is moving from single-use containers to DEF dispensing equipment.
By now, most fleet managers are familiar with DEF, a solution of high-purity urea and deionized water, and how it is used with a newer vehicle's Selective Catalytic Reduction (SCR) equipment.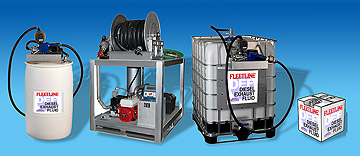 How much DEF do I need?
Your vehicle consumes DEF at a rate of about 3% by volume to diesel consumption.
Does the DEF mix with the fuel?
No, it's sprayed into the exhaust stream where it reacts with the NOx in the SCR system, then released as nitrogen and water.
What DEF equipment do I need?
Beyond single-use containers, we offer a full line of dispensing solutions for fleets.
Does DEF have a shelf-life?
Yes, approximately two years.
Is DEF hazardous or flammable?
DEF is not hazardous, toxic or flammable.
Is DEF corrosive?
Yes, DEF is corrosive to copper and brass, as well as other materials. Only approved materials listed in the ISO 22241 standards should be used with DEF.
What happens if I run out of DEF?
Vehicles are equipped with a dashboard DEF gauge to alert the driver on the fluid level. If the level becomes low, an alert will let the driver know that the DEF level needs to be replenished. If the driver runs out completely, the vehicle power will be reduced to encourage the operator to refill the DEF tank. Once the DEF tank is refilled, normal power levels will be restored to the vehicle.
Does DEF freeze in winter?
Yes, a 32.5% solution of DEF begins to freeze at 12º F. Freezing does not harm the quality of the DEF solution. After thawing, the DEF will perform as required.
Why use a 32.5% solution?
The 32.5% urea concentration is the lowest freezing point for water urea solutions, and SCR systems are calibrated to a 32.5% solution for optimum NOx reduction.
What if the DEF in my truck freezes?
If DEF freezes when the truck is shut down, start up and normal operation of the vehicle is not inhibited. The SCR heating system is designed to quickly return the DEF to a liquid, and operation of the vehicle is not affected.
For more info on DEF, or help in choosing the right dispensing equipment for your growing fleet, give us a call.
Read More