UREA price increase is happening in April 2012, so all distributors and end users of diesel exhaust fluid (DEF) will be effected. If you are a DEF user, please call DKB today to get your latest price.
If you are curious...
Urea (fertilizer) is mainly used in the agriculture market and changes in the agriculture market, including rising natural gas prices, availability, and global agricultural factors have impacted price over time. Urea price is highly dependent on natural gas pricing, so when natural gas increases, urea follows. Because of its primary agricultural use, Urea is traded as a global commodity, and therefore liable to fluctuate with global conditions.
For a general run down on DEF, click here
For a general rundown on Urea, this website has a great explanation of what it is, why theres a global market, and how pricing works http://www.agrotainturf.com/QandA.php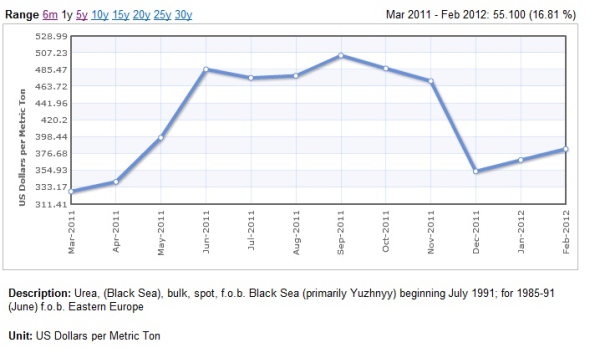 (The above chart shows urea fluctuation over the past year... Chart is from IndexMundi.com - great resource on commodity movements)