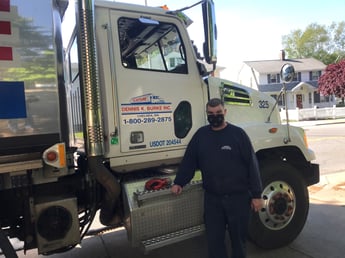 With the recent rollback in the Massachusetts reopening plan, we wanted to take a minute to talk about protocols in place to protect employees and customers while still operating at full steam.
As an essential business, we have continued operating and delivering as normal during the pandemic, although the way in which our office works looks a little different these days. Because of the nature of the business, we were fairly well prepared to work remotely when possible, since we have had to do so (although for MUCH shorter periods of time) in emergency situations previously.
Touchless deliveries, electronic dispatching, and integrated back office systems have been critical facets of our ability to pivot to the "new normal" we are living through. Additionally, the ability to use Microsoft Teams to switch meetings to a virtual format was a huge help, as it allowed us to conduct safety training without risking contact or spread. If you'd like to hear about some of these and the additional processes we put in place to keep running while adhering to the new guidelines, you can do so in Oil & Energy Online here: Tackling our New Normal
In addition to processes, we found it helpful to adopt a comprehensive policy on COVID-19 for both our internal and external (customer facing) operations that we rolled out to all employees to make sure everyone is on the same page on exactly what is required.
The policies clarify social distancing & masking requirements and govern the level of contact between our employees and our customers, as well as our internal employee contacts. (If you are a customer or vendor and require a copy of our corporate policy regarding COVID-19, please don't hesitate to contact us for a copy)
We hope everyone is staying as safe as possible out there.
Read More