Doug's Tip of the Month - Oil Analysis Flagging Limits
An oil analysis report contains results on as many as 40 different parameters that each have acceptable ranges identified. The type of oil, its formulation, how it should be maintained, and the operating conditions all are considered when evaluating an oil sample and setting acceptable ranges. Also considering the type of equipment and the operating environment is just as important.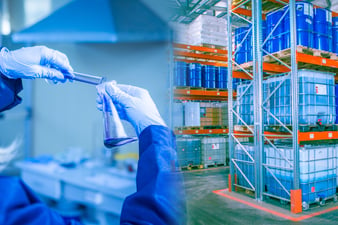 An acceptable oil analysis program should consist of these basic components; standard processes for the establishment of normal ranges, along with the identification of limits and a reliable system for recognizing failure modes. Most labs offer comments and recommendations in the form of flags that are patterned after green, yellow and red traffic lights. Yellow and red flagged parameters indicate that a threshold has been passed and further action is required on the part of the end user; green flagged information indicates an item is within range, and is archived for trending. Some parameters, such as particle counts, only have upper limits. Other parameters, such as oxidative stability, only have lower limits. Parameters such as viscosity, that measure stability, have both upper and lower limits. There is not a universal approach for setting alarm limits. Also, some parameters and stats on the lab report are not critical to that specific piece of equipment, so not every oil analysis parameter needs an alarm limit.
Because oil analysis is as much expertise as formulae and there are so many considerations involved, most labs do not publish limit information. The issue for end-users is who sets the range and who to believe—formulator, OEM, lab, industry, association such as ASTM—and why.
There are four traditional absolute methods for determining oil analysis ranges and flagging limits.
These methods are:
Industry standards.

These are generic limits placed on machines that are grouped according to working pressure or type (e.g., gearboxes or hydraulic systems). These standards are generally considered baseline. Limits set by industries and associations often involve equipment with strict safety and reliability requirements. These limit values should be carefully considered.

Statistical alarms.

These are based on common distribution functions that are usually built into software.

Trend-based or rate-of-change limits.

These define an unacceptable departure from a usual level. There are three ways of developing trend or rate of-change alarms:

Relative magnitudes.

This identifies a significant change in magnitude.

Rolling average.

This compares the current value to the average of several historical measurements.

Weighted delta settings.

This uses a weighting method that requires a very large change to occur before an alarm is tripped for a small measured value. As the measured value increases, the required percentage change decreases.

No predefined limits.

These are judgment-based and rely on the availability of experienced analysts familiar with the type of machinery being monitored. A qualified technical data analyst will have relevant industry experience and bring value to the recommendations by considering a multitude of factors rather than focusing on a single test result and evaluating it without consideration of other key data. In addition to statistical anomalies, a data analyst reviews rates of change and the amount of time on both the equipment and fluid.
Consider working with your Technical Advisor and a Lab to help determine any changes to flagging limits for the end-user.