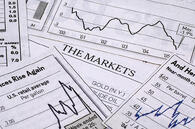 Crude jumped on today's inventory report after jumping up on the overnights last night as well. Post close yesterday, the API numbers were indicating significant draws and the EIA release backed that projection up.
The EIA report this morning indicated that Crude inventories dropped by 14.5 million barrels for last week, which is the biggest drop we've seen this millennium (since 1999).
Analysts are partly blaming the effects of Hermine on the Gulf Coast delaying production and explaining the draw down in stocks.
Gasoline stocks also dropped, by 4.5 million barrels, and also unexpectedly.
Today closed out up across the board, with diesel up .0557 to $1.4822, Gas up .0701 to $1.4165 and Crude closing out at $47.62. (significantly up from yesterday's Crude settle of $45.50)
An interesting aside on gasoline's jump today was that the lowest Labor Day retail gasoline prices in 12 years were seen this past weekend, and if you jump online there are literally dozens of articles projecting that the post summer driving season price levels for gasoline will drop below $2 per gallon. It's more likely than not that these articles are correct versus today's inventory and price rebound. Nothing has changed fundamentally with either Crude or gasoline in terms of long term supply and demand outlooks (despite some new rumblings about Russia and Saudi Arabia, as usual).
Stay tuned!