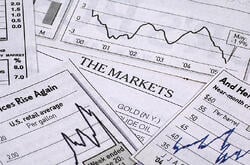 Today we saw some reversals in the abject panic selloffs we saw Friday and especially Monday. (Click here to recap Friday)
First, lets recap Monday's insanity:
Monday saw WTI tumble another 5.5% to close out below $40 to $38.24 for October delivery. Brent fell in tandem, about 6% to settle out at $42.69 for October delivery.
We saw stocks extend losses as well - shortly after Monday's open, the Dow was down an unprecedented 1,000 points, it ended up bouncing around and settling down 588 points on the day. Monday saw the S&P in full correction mode for the first time since 2011, as was the Nasdaq, and it was the Dow's worst performing day since 2011 as well.
What happened? Essentially everyone is in full on panic mode in terms of selling off. Panic over Chinese economic data gave us Friday's plummet, and then The Shanghai index was down 8.5% Monday which kept the selling right on going.
This morning we're seeing some rebounding on stocks as well as commodities, after the Chinese made a surprise interest rate cut in an attempt to stem the bleeding. It's uncertain if this is really inspiring confidence in investors, or we're just seeing the infamous "dead cat bounce" that often accompanies several days of heavy losses. Time will tell.
As of 3pm, the markets are all positive on the day - a trend unlikely to reverse before the close... but, perhaps not likely to continue through the week either.
On the commodities side, Crude rebounded this morning somewhat, finally settling out in positive territory from yesterday at $39.31.
ULSD and RBOB have gone back and forth from positive to negative throughout the trading day, but at the close, diesel was essentially flat (+.0023) at $1.3952, and RBOB was down -.0324 to $1.4386.
Don't forget that the EIA Inventories come out in the morning as well, which could impact how the markets shake out tommorow.
Stay Tuned!