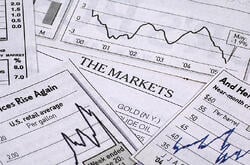 WTI crashed below the $40 level this afternoon in trading, and clung right to the $40 line at the close, settling at $40.45. (ULSD was off -.0556 to $1.4624, and RBOB dropped -.0143 to $1.5449)
As discussed yesterday, domestic inventories going up pushed prices down towards $40. Today Baker Hughes announced more rigs going back online, for the fifth week in a row, which seems to be the proverbial straw that broke the camel's back.
Stocks haven't taken the news easy, either. US stocks hit their lowest point in a year, on oil price panic and deepening fears about the Chinese economy. The Dow Jones was down over 450 points as of 3:30pm – and over 530 points at the close. The bad news is that makes it in official "correction" territory which could further more panic selling on Monday. The S&P was down over 2% this afternoon - which pales in comparison to the market in China which dropped over 4%. Long story short, everyone's stock positions got hammered today.
Another factor of a quick price drop on oil like we've seen since last June that is rarely discussed is the impact on jobs. This is kind of another anvil hanging over the economy's head that could drop if oil gets to a critical low price. According to The Guardian's reporting, close to a quarter million people globally have lost their oil and petroleum related jobs, including approximately 35,000 in the US. Shell announced this week that it would lay off 6500 employees worldwide. Then there's the financial cost. Their article on this portion of the equation is fantastic and thorough, you can read it here: The Guardian
Earlier this month we saw Venezuela and others pushing for an OPEC meeting to discuss changing supply to offset the crushing blow to their economies that the continued low pricing has been having. Yesterday, according to Reuters and the Wall Street Journal, the Algerian Oil Minister sent a letter to OPEC arguing the price has dropped significantly since they agreed on production levels, and is pushing for another meeting to reassess. So far, Saudi Arabia et al have stood firm, but it may be that they are forced to reverse at some price level as-yet-undetermined. (You can read about that letter and OPEC in depth here: WSJ )
Hopefully we have some better news tomorrow - but it doesn't look good out there, folks.