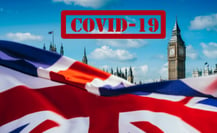 Last week's market pushed up on hopes of progress against COVID with vaccine rollouts and encouraging signs of demand growth on fuels. This week however, those hopes were dashed as talk turned to a variant strain of COVID found in the UK that has caused surging infections, and prompted the "Christmas Lockdowns" in other European nations to become increasingly severe. This has all but wiped out any hope of demand stabilizing in the near term.
Sunday France closed it's border to the UK, stranding truckers and travelers in the process. This afternoon they are allowing drivers who test negative to cross, if they have an essential purpose for travel. No travelers will be permitted without a reason for travel and negative test within 72 hours going forward, according to current reports. Overall, more than 50 countries have banned travel to & from the UK in the wake of the new strain's discovery, in an attempt to keep it from spreading.
Even the passage of the second stimulus in the US that's been hanging over the market for what seems like eons didn't do much but slow today's declines as compared to yesterday's losses.
Yesterday we saw both Brent & WTI shed over 2%, where we saw increases of 1.5% on both just Friday (Friday saw the highest front month settle on both flavors since late February). News moves fast.
Yesterdays close on WTI was $47.74, and $47.02 today. In terms of refined products, ULSD shed .0158 to $1.4616 for front month & -.0152 to $1.4630 for February trading. Gasoline followed suit, dropping -.0209 to $1.3395 Jan, -.0193 to $1.3355 Feb.
It remains to be seen how things shake out when the second stimulus takes actual effect, but more importantly it remains to be seen what the implications of the new COVID strain will be. If it's contained, or vaccines are effective in slowing or preventing its spread, it may end up just a blip on the radar. If not.. well, we can only hope for the best.
Stay safe and stay tuned. Hope everyone has a safe and happy holiday season, despite how different it may look this year.
Read More