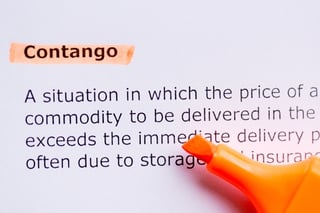 Another day, another price drop.
Both Brent and WTI Crude have shed about 10% of their value over the past two weeks, and those losses continued today.
Today, front month (December) WTI dropped from Friday's $44.60 to $43.98, while front month (November) ULSD dropped from 1.4544 to 1.4259 (-.0285) and RBOB dropped (-.0157) from 1.3036 to 1.2879.
WTI Crude is continuing to show an ever widening contango, with front month discounts at a 5 month high and still going.
What's behind it? Supply, supply, and more supply, with an added kick of above average temperatures for the season and a forecasted lighter winter.
Despite the fact that US rig counts have dropped to their lowest level since 2010, supply just simply has not slowed down enough domestically - US Crude is up 5% in just the past 4 weeks, to the highest level we've seen this time of year since the 1930s. And as we've covered extensively, OPEC output remains at sustained high levels abroad.
As an aside - we talk a lot about the supply glut in reference to Crude, but it's becoming a serious issue on refined products and Natural Gas as well. There is fear in Europe about refined products, specifically diesel, hitting "tank tops" – in other words the supply hitting or exceeding maximum storage capacity.
Although it's not likely tank tops will actually be hit, the fact that the concern exists speaks to the level of over supply we are looking at. (According to Reuters, aforementioned stockpiles of refined products are resulting in diesel and jetfuel cargoes taking longer routes and backing up outside of European ports.)
Natural Gas has been plummeting as well, and today NYMEX Nat Gas saw its largest single day drop since February of 2014. It dropped almost 10% on the winter forecast and supply gluts, the same concerns that have been pummeling Crude. Natural Gas, like WTI, is in contango at present, and there is no real indication it will reverse course any time soon.
To add some gasoline to the fire (pun very much intended) – Goldman Sachs today warned that it expected downward pressure on oil and distillates through Spring 2016 based on supply and weather forecasts, while other analysts proclaimed Natural Gas would be facing the same issue, with concern about capacity max outs and no foreseeable reason it should have the price spike we almost always see as we round into the winter months.
Who wants to bet on how those announcements impact trading tomorrow?
Read More