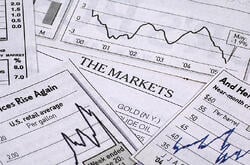 The EIA inventory report for the week ending November 7 showed draws in Crude & Distillates, with a build in gasoline. Crude drew down 1.7MMb and distillates drew down 2.8MMb, while gas built 1.8MMb.
Watching the screen though, you wouldnt think we showed draws - ULSD and RBOB are both dropping like the proverbial stone - both products had intraday lows well over 6 cents, with gas dropping down 8 for a few.
UPDATE - ULSD close 2.3621 (-.0848) and Gas -.1054) - Yikes!! January& February gasoline closed under $2 at 1.9827, and 1.9899, respectively
So whats going on? Why even with a draw down on products, and once again heightening tensions in Russia/Ukraine are commodities dropping?
The jobless number report was higher than anticipated by about 10,000, but the numbers are still are hanging near a 14 year low so that ought not be a huge factor in either commodity numbers, or the stock market. The stock market, by the way, is retreating a little from it's record highs and hanging flat on the back of falling energy shares once again, due to falling prices.
We still are in the same situation with OPEC and American production being sky high, and global demand due to economic growth being anemic at best, so the dismal supply demand situation is still at play.
Going out on a limb I would credit the extra oomph of todays drop off to lots of news regarding Keystone - with a bill being pushed through to the Senate that will actually make it to the floor, things are being shaken up on the energy front. Word is, in an attempt to save the seat of Landreiu, from Louisianna, who faces a runoff election challenge next month, Senate leader Reid has agreed to allow the legislation to the floor.
Although most talking heads seem to think Obama will veto - still, the implication is that the midterms probably will be forcing some of the top energy agenda items through, and thats good news - unless of course you fixed high, in which case dropping energy prices might start hitting you in the wallet very soon.
How low can we go?