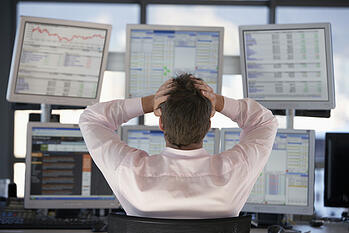 Oil prices are continuing their tumble - and it doesn't look likely they'll rebound in any significant way any time soon.
Wednesday's EIA Inventory Report showed a Crude build of 2.6mmb, bringing US Crude stockpiles to 456.2mmb. Analysts had forecast (hoped for?) a decline of 1.2-2.3mmb, depending on which group you looked at.
Wednesday's trading saw WTI plunge 4% to below $41/bbl - the lowest it's been in over 6 years. It settled out at $40.80 for September, and $41.27 for October. Brent lost 3.4% as well to settle at $47.16 for October.
$40 is a fairly significant benchmark, both psychologically and because it touches on production cost for some producers, which means it becomes essentially unprofitable to produce if oil goes any cheaper than $40.
WTI may bounce some today as September trading closes out, but with refineries going offline in the fall for scheduled maintenance and no reason to think Crude stockpiles will suddenly plummet - it's likely that the decline will continue further. The only real question is what the bottom will be.
Additionally, the pending Iran Nuclear deal if approved (which is essentially guaranteed) would lift sanctions in Iran, which would allow them to export more oil. They currently export around 1 million barrels per day from their 2.7 million barrel production. Reports say they are capable of about 4 million barrels of production, but its unclear how much of that they would be capable of exporting.
Regardless, the EIA has revised its projection for oil prices throughout 2015. The new numbers put WTI at below $50 dollars ($49) for the remainder of the year, and only project WTI at $54 for 2016. EIA also cautioned that the numbers may be revised again, depending on Iran's ability to put new oil produced up for export.
OPEC has maintained they will not be reducing supply regardless of the slide - it remains to be seen whether they reverse that stance if oil continues well below the $40, or even $30 dollar benchmarks as some think it may.
Back to today- US stocks are getting crushed from fears about oil prices and the lack of foreseeable demand increases, the Chinese economy, and employment. The most recent jobs report showed an increase in unemployment claims - the fourth week in a row it both increased and beat estimates of how much it would increase. Unemployment ticking up, and the Fed signaling that the economy may not be strong enough to withstand an interest rate increase yet (according to their recent meeting notes) have for obvious reasons, not inspired confidence.
Stay Tuned!