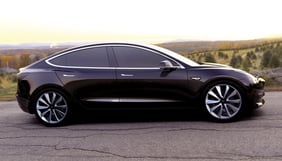 Tesla's Model 3 launch saw unprecedented and unpredicted preorders come in around 400,000 - for a car that isnt even out for about 2 more years!
The car boasts a $35,000 dollar price tag - compared to the high price of some previous Tesla models, the model 3 is an opportunity for lovers of the Tesla branded vehicles to get into one themselves. The car also boasts a 200+ mile electric only range, and some neat tech features including a heads up display and the standard Tesla car software "upgrades".
I wrote an aticle for Oil & Energy on the Tesla model 3 launch, it's features, as well as possible issues that could be on the horizon for the company in terms of hitting deadlines on the Model 3, especially in the face of demand that tripled even the most optimistic preorder projections. You can read that article here: Oil & Energy Magazine:"Impressive Launch for the Tesla Model 3"