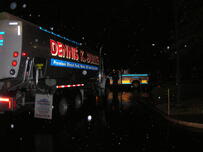 Federal Officials with the Department of Health and Human Services are putting forth new regulations on Hospitals, Urgent Care Facilities, and other inpatient care environments that would require them to have plans on maintaining necessary functions for patient health and safety. This includes new regulation on emergency backup generators and generator fueling. According to the AHA this means they must "develop and maintain and comprehensive emergency preparedness program that...utilizes an all-hazards approach...developing capacities and capabilities critical to preparedness for a full spectrum of emergencies or disasters.. not managing seperate planning initiatives for a multitude of threat scenarios"
HHS cited severe issues that had arisen during Hurricane Katrina, Hurricane Sandy, and other disaster scenarios, (including the estimated 215 hospital patients who died in Katrina's aftermath) and declared that comprehensive emergency preparedness plans are an "Urgent Public Health Issue" (You can read more about this in today's New York Times article here: http://nyti.ms/1fndiuP )

One of the more controversial federal requirements is that each emergency generator must be tested annually, for at least four hours under a full load (based on what the estimated power needs of the facility would be in the event of an emergency need). A written record of inspections, testing, and repairs is required to accompany the new testing requirements as well. The old regulation only required such testing every 3 years. The thought is that there are oftentimes issues with generator performance when the need strikes, and proper testing and maintenance annually will go a long way in preventing those failures going forward.
Additionally, hospitals that maintain an on site fuel source for their generators must maintain a quantity of fuel on hand that would be capable of sustaining through the emergency, or until likely resupply could occur. After all - your generator isnt of any use if you run out of fuel.
The controversy about these parts of the regulation is cost, obviously. The American Hospital Association estimates first year costs at $225 million dollars, according to the New York Times. However, NYU Langone Medical Center alone reported over a billion dollars in damages and lost revenue in the wake of Hurricane Sandy - so it would seem big picture, that a lack of willingness to pay upfront costs could be "penny wise but pound foolish" in the event of a disaster.
What are your thoughts on the new proposed regulations?
(By the way - if you're in the healthcare industry and would like a detailed explanation of the proposed outlines and how they specifically need to be implemented in hospital settings, the ACA has an excellent slideshow online at www.aha.org )
If you'd like more information about our generator fueling program, you can get it here: http://www.burkeoil.com/fuel-and-gasoline/generator-fuel-program